VD twin vessel plant has a capacity of 75 metric tons
Objectives are further improvement of the steel quality and reduced working costs
Hydrogen content reduced to less than 1.3 ppm and nitrogen to less than 50 ppm
Continuous bloom caster produces 800,000 metric tons per annum for automotive applications
Dedusting system improves environmental quality
A twin vacuum degassing plant (VD) and a continuous bloom caster supplied by Primetals Technologies have been brought into operation at the Chinese special steel producer, Changzhou Eastran Special Steel Co. Ltd. (Changzhou Eastran). The VD plant has a capacity of 75 metric tons. The vacuum treatment reduces the hydrogen content to less than 1.3 ppm and the nitrogen content to less than 50 ppm. The objective is to improve the steel quality even further. The five-strand continuous caster is designed for an annual production of 800,000 metric tons of steel for applications in the automotive industry. It casts blooms for pipes, spring and bearing steels. A dedusting system improves the environmental conditions on site and the new plants also reduce operating costs. Primetals Technologies received the order at the beginning of 2017.
Changzhou Eastran is part of the Changzhou Eastran Group and operates a plant in the town of Changzhou in Jiangsu Province, Eastern China, producing special steels, including bearing and tool steels. The new plant replaces obsolete equipment.
Primetals Technologies designed all the mechanical and electrical equipment for the VD plant, and supplied core components, including the vacuum pump, filters and gas cooler. The vacuum pump itself was manufactured in Germany and procured from Leybold. The system was integrated in a Leybold workshop in Tianjin.
The five-strand continuous bloom caster is equipped with a curved pipe mold. The machine radius is ten meters and the metallurgical length around 20 meters. It casts high-carbon steels at speeds from 1.05 to 1.5 meters per minute and produces blooms with a square cross-section of 200 x 200 millimeters. Production can be extended to include other rectangular and round cross-sections.
Primetals Technologies was responsible for the basic and detailed engineering, as well as for manufacturing molds, oscillators and segments. Primetals Technologies installed a number of technology packages to ensure not only a trouble-free casting process, but also blooms with high surface and interior qualities. The packages included the DynaFlex mold oscillator and straightening units with DynaGap Soft Reduction. Primetals Technologies also supplied the systems for the basic automation (Level 1). DynaGap Soft Reduction in combination with the Dynacs 3D cooling model enables blooms to be cast from high-quality pipe grades and other upmarket steels. Primetals Technologies also supervised the installation and commissioning of the continuous caster, and trained the customer's personnel.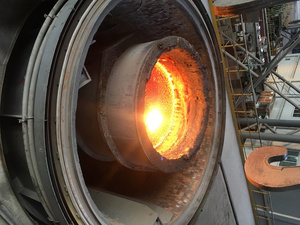 Source: Primetals Technologies